Joseph Kirkwood
Guitar, Bass Guitar and Drums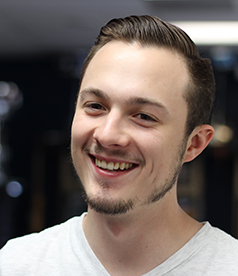 In a recent interview with Joseph, this is what we learned:
What type of songs do you write? "Apparently ones that are never finished! I'm always making tweaks and changes and the song seems to always be in state of evolving"
Who do you sound like (your playing)? That's an interesting question.  My biggest influences are RUSH,  Chevelle, Foo Fighters, Muse, Red Hot Chilli Peppers…   So if you threw all of those guys in a blender, mixed in a little Mississippi mud-that's my sound."
Do you have a favorite quote or one that means something to you? For my graduation announcements there were photos taken of me under the pier at Jacksonville beach. Later we noticed there was graffiti on one of the pillions that read, "We are the makers of music, we are the dreamers of dreams" by Arthur O'Shaughnessy (not willy wonka) I thought it was cool and so that quote was also used on the actual announcement.
What is something about you that most people don't know? I hate spiders and mushrooms. But musically? The first time I played on stage was at Whitey's Fish Camp and I was in the 4th grade. My first love is the drums but I'll play anything with strings, or at least try.
What do you like about working at a music store? It has allowed me to meet some really great people.  From local musicians both students and pros to vendors who really care about the music industry.I've been able to attend trade shows and visit Nashville which has a great music vibe. I've become a Certified Dean Markley Tech,which has really expanded my knowledge of strings, how they are made. And I've learned that most people do not change their strings often enough! Something so simple can make a world of difference in sound and performance.  CHANGE YOUR STRINGS PEOPLE!